OUR TEAS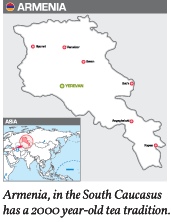 Our teas are derived from one of the world's oldest herbal traditions: that of Armenia, an ancient civilization at the crossroads of East and West. The Armenian highlands, located in the mountainous region between the Black and Caspian Seas, host pristine alpine habitats that produce an abundance of wild herbs. It is from this pure source that Authentic Teas' tisanes, or herbal teas, are produced.
We ensure all our teas are wild-crafted, meaning the herbs are harvested sustainably in the wild and then processed entirely by hand. Harvesters are carefully trained in herb collection and handling techniques in accordance with Armenian herbal tea crafting tradition. Blending the best of ancient and modern methods, we derive our herbal blends from medieval Armenian manuscripts.
The tea crafting takes place in indigenous village areas, where most of the economic benefits generated are returned to local artisans, helping ensure that a lifestyle and culture grounded in two thousand years of tradition continues. Steeped in millennia of tea excellence, no other herbal tea can provide a more authentic, more outstanding tea experience.